OKC Day -- Spring 2019
EVENT
Date:
27 May 2019, 8.30 AM
-
27 May 2019, 5.30 PM
Venue:
Villa Källhagen
This OKC-day will focus on scientific contributions from young researchers, data visualization techniques, and a good deal of celebration for Lars Bergström's career!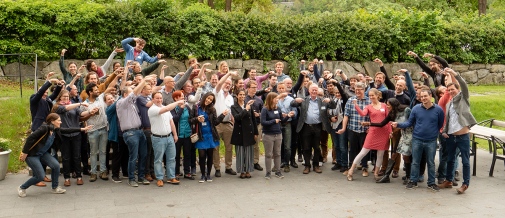 Program
8:30 - 9:15 Drop-in breakfast
9:15 - 9:25 Welcome
Science presentations by young OKC:ers (Sunny, Semeli, Björn, Sambit, Carl, Knut)
9:20 - 10:20 Short student science presentations
10:20 - 10:40 Group activity
10:40 - 11:20 Short student science presentations
Lars Bergström career celebration
11:20 - 11:35 Joakim Edsjö
11:35 - 12:15 Anne Green: The status of the search for dark matter
12:30 Lunch
Data Visualisation Workshop
13:45 - 14:45 Improve your skills in how to visualize your research findings - Andreas Dahlin*
As fluent as we may be in writing or talking about our science and results, we may still lack one essential element of scientific communication in our repertoire: the translation of our work into clear, pedagogic images and figures. In this workshop, Andreas Dahlin will share tips and tricks on how you can improve your visuals for your next presentation or poster.

14:45 - 15:00 Coffee break
15:00 - 16:00 Improve your skills in how to visualize your research findings, continued
16:00 - 16:30 Lars Bergström's career celebration - Ariel Goobar
16:30 Sparkling wine and end of the day

* Andreas Dahlin has a PhD in Analytical Chemistry, Uppsala university from 2005. He thereafter worked as a project leader and researcher in an interdisciplinary project at Uppsala university where his group developed a new microdialysis catheter for clinical use. In May 2017, he became an adjunct professor in analytical chemistry (docent), Uppsala university. He has always been interested in presenting science with high quality, pedagogical images.
In the beginning of 2016, Andreas founded Visualize Your Science AB (Visualizeyourscience.com) and decided to dedicate all his time to help researchers become better science communicators using illustrations, visualizations, and animations. Today he gives courses to more than 300 PhD-students and researchers every year. His students come from all over the world but mainly Uppsala university, KTH, Chalmers, Helsinki University, SLU, Stockholm University, and Gothenburg University. He also provides courses for research-based companies.