OKC Day -- Autumn 2016
The OKC day took place on November 16, 2016 at Scandic Hasselbacken in Stockholm (check the webpage: www.scandichotels.com)
FEEDBACK : Please fill this feedback form: https://goo.gl/forms/ciXaC2qjxBZesDvA2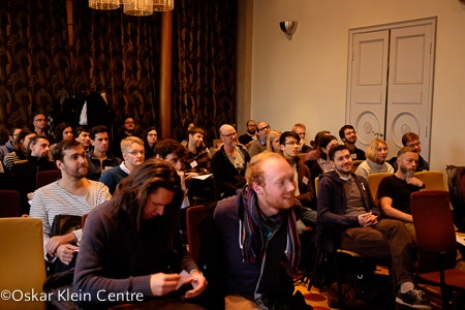 REGISTRATION
Registration is closed. Deadline for registration was Friday 14 October.
http://doodle.com/poll/nn46ptn84qnbb9n8
IMPORTANT NOTE: Participation is free of charge for all OKC-members. However, given we had a dropout of about 30% of the participants in the last OKC-day in the spring, we are now starting a new policy: you will be asked to pay your
fee ( 700 SEK) in case you sign-up but do not show-up and miss to inform me. Small adjustments can be made up to two weeks before the event, free of charge - yes, of course you might get sick, just let me know if you do.
THEME: Scientific interests at OKC
The program will be focused on presenting research fields at OKC.
PROGRAM
8:30 -9:00 Welcome Breakfast
9:00 - 9:20 Welcome - Introduction to the Oskar Klein Centre by Hiranya Peiris
9:20 - 10:00 One run of short 1 minute informal introduction
10:00 - 10:10 Stretching legs
10:10 - 10:25 The Dark Matter working group by Miguel Sanchez-Conde
10:25 - 10:40 The Extreme Object working group by Jesper Sollerman
10:40 - 11:10 Activity
11:10 - 11:25 The Cosmology and Gravity working group by Garrelt Mellena
11:25 - 11:40 The Theory working group by Bo Sundborg

11:45 - 13:00 Lunch

13:00 - 13:50 Second run of short 1 minute informal introduction
14:00 - 15:00 Mingling time with activity

15:00 - 15:30 Rahman Amanullah (EO)
15:30 - 16:00 Nico Wintergerst (TWG)
16:00 - 16:30 Luca Visinelli (C&G)
16:30 - 17:00 Knut Dundas Morå (DM)
17:00 - 17:15 Conclusions lead by Hiranya

TRANSPORTATIONS
Scandic Hasselbacken is in Djurgården. The adress is Hazeliusbacken 20 and can be reached by buss number 69 or tram number 7. The closest busstop is Liljevalchs/Gröna Lund
Use the sl.se planner to plan your whole trip: http://sl.se/en