XENON1T sees an excess of electron recoil events
Underneath a mountain in Italy sits 3.2 tonnes of liquid xenon waiting patiently for (among other things) a dark matter candidate particle to recoil off one of the xenon nuclei. And, although a nuclear recoil event has yet to be observed, researchers working on this experiment report that they see more than they expect of something else -- electron recoil events.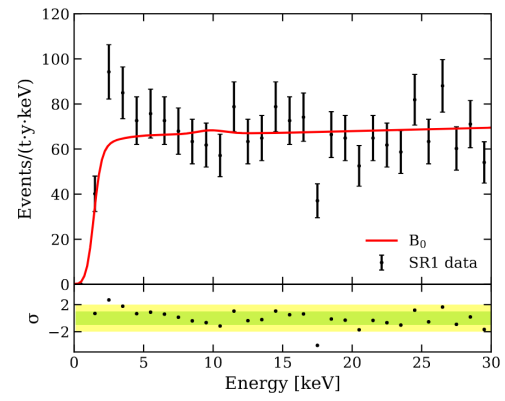 There are three hypotheses as to what is causing this excess of electron recoil events. The first is that the detector may contain tiny amounts of Tritium, a radioactive isotope of hydrogen, which emits an electron when it spontaneously decays. The second possible explanation could be a new particle, for example axions produced in the Sun, and the specrum of the electron recoil excess is similar to what one would expect from solar axions. Finally, the excess may be due to neutrinos having a larger magnetic moment than is currently assumed.
The XENON collaboration is highly international with 163 scientists from 28 institutions in 11 countries. At the OKC the XENON research group consists of Jan Conrad [PI], Bart Pelssers, Cristian Antochi, Jelle Aalbers, Jörn Mahlstedt, Pueh Leng Tan, and Sze Chun (Billy) Yiu.
"Our main focus is photosensor testing for the XENON1T upgrade (XENONnT) and data analysis, especially statistical analysis. This year we created a more efficient statistical analysis method, which could shave almost a year off the time needed to establish a dark matter discovery. We are currently adapting it to work also for this potential hint of solar axions" says OKC postdoc Jelle Aalbers.
Jelle recently spoke about these results in an OKC colloquium:
These days the XENON1T detector is offline while scientists upgrade it to increase its sensitivity by including more xenon and even better background estimation.
OKC postdoc Jörn Mahlstedt, who is about to leave for the GranSasso Lab to oversee data taking during the comissioning of XENONnT, says "It is very exciting to see XENONnT, the successor of XENON1T, coming alive step by step. The majority of the photomultiplier tubes which are the eyes of our detector have been tested here in Stockholm and it is an incredible feeling to see these photosensors performing well and starting to see light in XENONnT."